Riigikohus on Eesti Vabariigi kõrgeim kohus.
Põhiseaduse kohaselt on Riigikohus kassatsioonikohus ja
põhiseaduslikkuse järelevalve kohus. Riigikohtu pädevus
on sätestatud kohtute seaduses. 

Primary tabs
Cooperation seminar held by Supreme Courts of Estonia and Ukraine
21 October 2022

PDF
On Wednesday, 19 October, the Supreme Courts of Estonia and Ukraine held a cooperation seminar Court in the Context of War in Tartu, where Ukrainian colleagues spoke about their work and administrating justice during the war.
Secretary-General of the Grand Chamber of the Supreme Court of Ukraine Larysa Rogach introduced legislative changes for the period of war, which include assigning judges to other courts and changing the territorial jurisdiction of court cases. Rogach emphasised that courts are operating despite everything – even though 11% of the courtrooms are either damaged or destroyed, more than 2.8 million cases have been resolved since the outbreak of the war.
Presentations included examples of relaxed requirements for substantiating court decisions and time-limits of proceedings, but also the ways of interpreting the rules of law differently in a state of war based on legal principles. For instance, in the event of a war or a state of emergency, courts may pass judgements at their own initiative without notifying the relevant parties on the basis of existing materials in written proceedings. Cases can also be reviewed via video conferences outside the courtroom.
"I'm pleased to confirm that despite difficult times we can continue our cooperation with the Supreme Court of Ukraine that was planned already before the war," said Chief Justice of the Supreme Court of Estonia Villu Kõve. "It is important for us to know the realities of administrating justice under such difficult circumstances."
Villu Kõve expressed hope that Estonia can help its Ukrainian colleagues with its experience in implementing the procedural information system and remote working solutions and with topics related to training judges, but also by offering support on the international arena.
Estonian presentations also touched upon the direct and indirect impact of the war on local courts and cases. Local opportunities for working remotely, the continuity plan of courts and legislative plans for increasing readiness for crises were also introduced.
The cooperation meeting of the Supreme Courts of Ukraine and Estonia continued on Thursday.
Full programme of the seminar Court in the context of war
Welcoming remarks:
Mr. Heiki LOOT, justice of the Supreme Court of Estonia
Mrs. Larysa ROGACH,  Secretary of the Grand Chamber of the Supreme Court of Ukraine
Presentations:
Mr. Heiki LOOT, justice of the Supreme Court of Estonia
"The Impact of the War in Ukraine on the Case Law of Estonian Courts"
Mrs. Larysa ROGACH, Secretary of the Grand Chamber of the Supreme Court of Ukraine
"Situation in the judicial system of Ukraine during the war and actions of the Supreme Court in this regard"
Mr. Viljar PEEP, Deputy Secretary General of the Ministry of Justice
"Estonian Draft Law for the Court Proceedings in the Times of War"
Mr. Evhen PETROV, judge of the Supreme Court of Ukraine
"Inheritance during the war or urgent matters in civil proceedings"
Discussion
Welcoming remarks: 
Mr. Villu KÕVE, Chief Justice of the Supreme Court of Estonia
Presentations:
Mrs. Olena KIBENKO, judge of the Supreme Court of Ukraine
"Peculiarities of management in the Supreme Court (moving from the post-Soviet structure of the Staff to the present-day model)
Mrs. Astrid ASI, Chairman of the Harju County Court
Mrs. Liina-Naaber KIVISOO, Chairman of the Viru County Court
"Virtual Proceedings, Remote Work and Continuity Plans for the Courts"
Mr. Ian Bernaziuk, judge of the Supreme Court of Ukraine
"Restrictions on the rights and freedoms under conditions of martial law (Art. 64, Constitution of Ukraine) and derogating from its obligations (Art. 15, Convention)
Mr. Viktor Ostapuk, judge of the Supreme Court of Ukraine
"Mechanisms of cooperation of the competent bodies of Ukraine with the International Criminal Court for the investigation of the crime of russian aggression against Ukraine"
Panel discussion
Closing remarks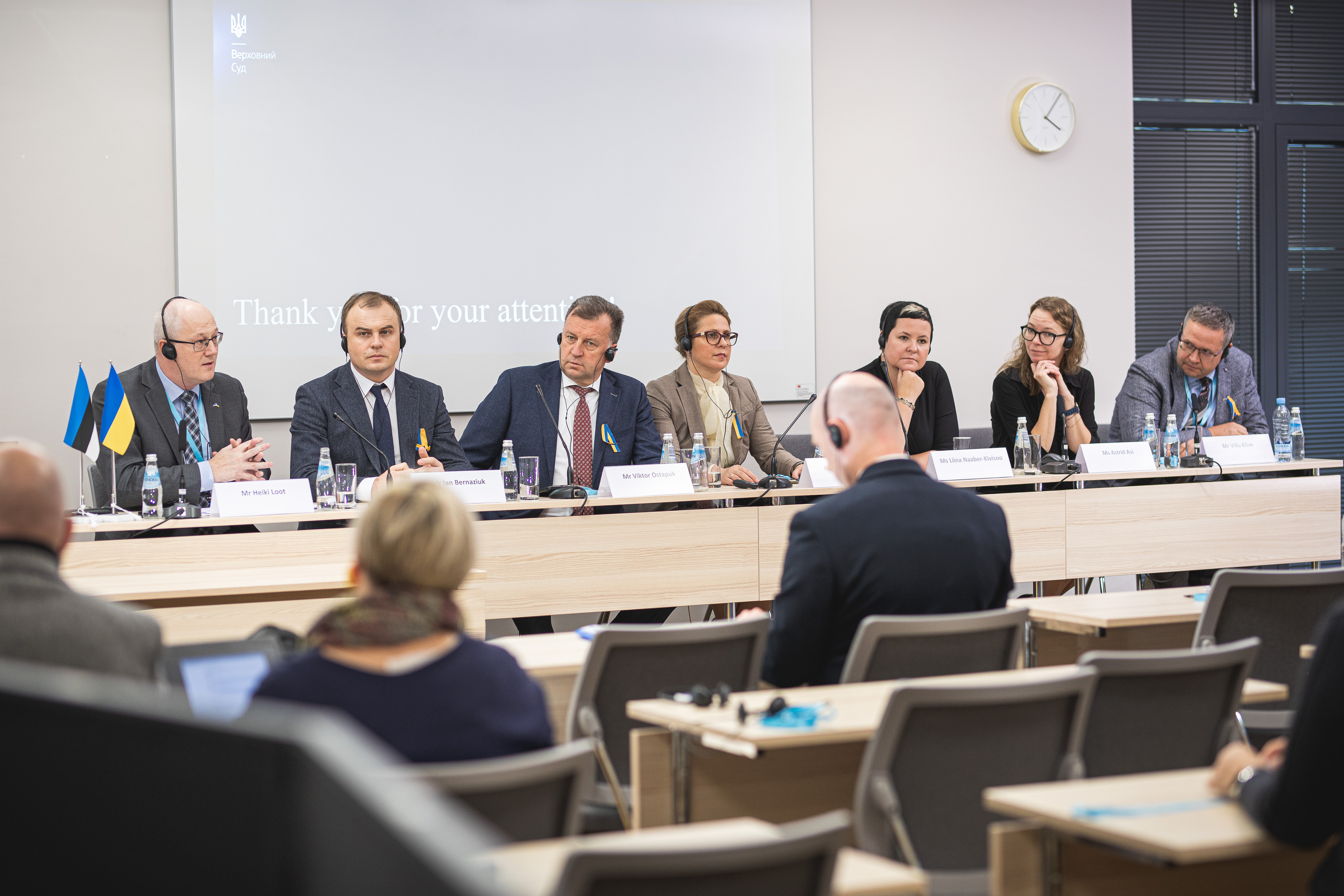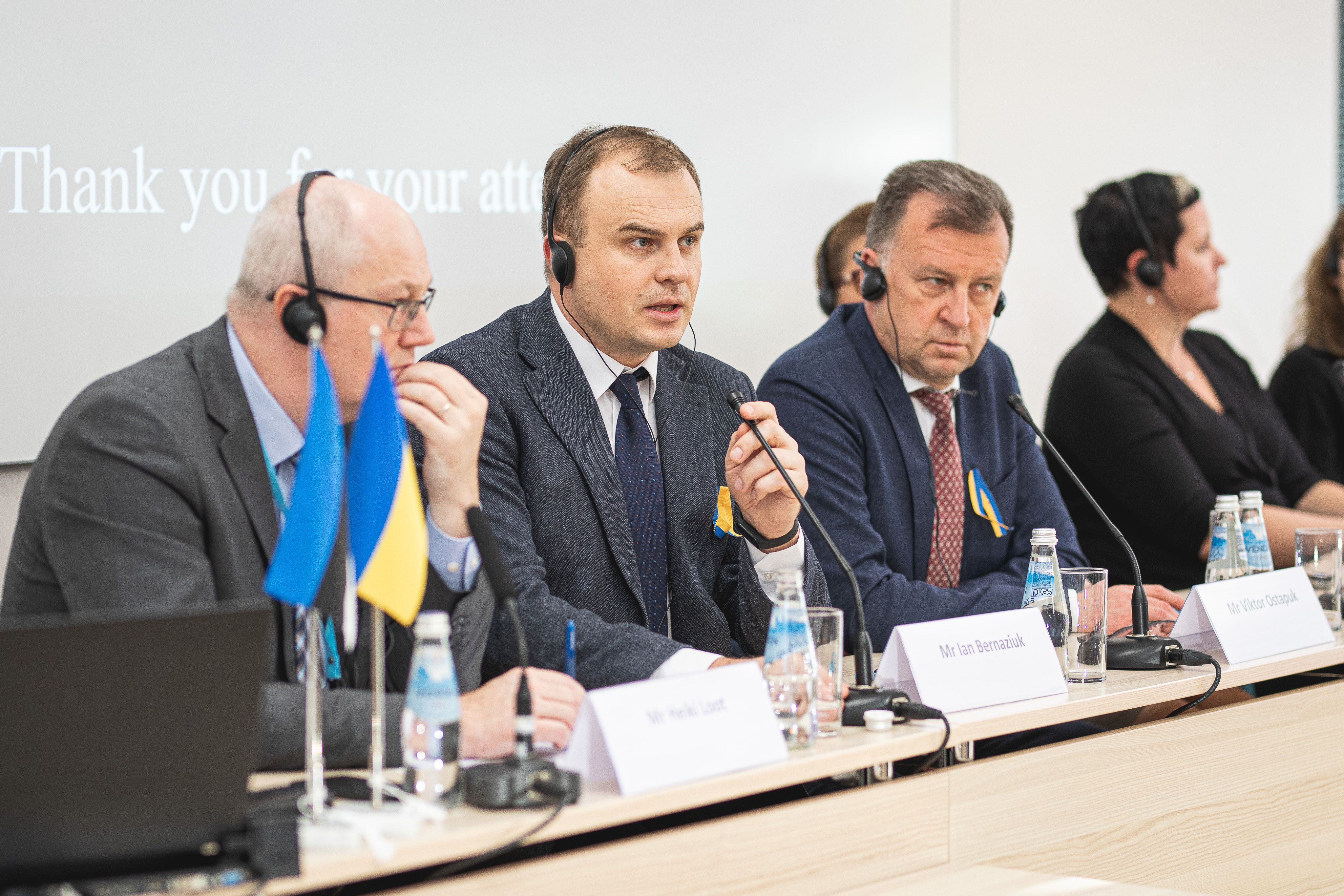 Iris Raudsik
Kommunikatsioonispetsialist
iris [dot] raudsik

riigikohus [dot] ee